It has been cold the recent days and a lot of snow has fallen in the Netherlands. Below a goat that really warms us up "Grasshill Champ's Diana". One of highest Saanen production goats of Grasshill Farm with one of the highest 305 days productions in the world. Grasshill Champ's Diana produced 3688 kg (12.1 kg / day) (8131 lb) at the age of 4 years and 9 months in 305 days and is classified with AV-88 points. Her lifetime production to date is 18,030 kg (39,749 lb).
Diana is a daughter of none other than "Grasshill Honor's Champ" EX one of the best Canadian Saanen breeding bucks ever. The full sister of Champ "Grasshill Chelsea" EX has achieved a 305 day production of more than 2,600 kg 4 times in a row! Characteristics of Champ's daughters are the high production, long life span and good functional conformation, excelling especially in the areas of dairy strength, correct feet and legs, and well-attached udders. At the moment 13 Champ daughters have a lifetime production of more than 10,000 kg (Diana's total of 18,030 kg closely followed by that of  'Sheena' at 17,060 kg). Champ is the grandson of former 'All-Canadian' "Hy-Crest Juno's Jaklyn EX".  This previous winner of Canada's top show award has been selected as overall  'Grand Champion' and 'Best Udder' at many Canadian shows (even while being shown as an 'aged doe').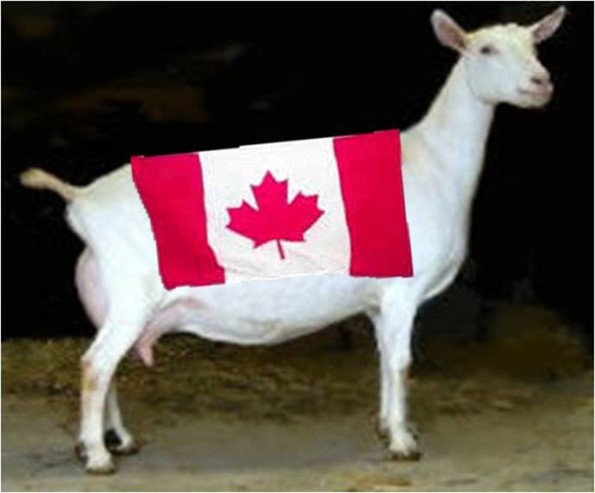 At Goat Improvement Company we are going to use a grandson of Diana "Grasshill Sentinal Designator" in the breeding program. This Designator is currently the # 1 index buck in Canada in the category for Combined Production and Conformation (a ranking based not only on kg milk, fat and protein, but also on conformation). He is also the # 2 index buck in Canada in the category for Production. The dam of Designator "Grasshill Buckaroo Deanna" is classified with 88 points and in her second lactation she achieved a 305 days production of 1320 kg with 5.0% fat and 3.5% protein (this amount produced after milking straight through between her 1st and 2nd lactation with 0 days dry between).
Deanna's half-sisters "Grasshill Sunrise Dolly" and "Grasshill Daisy Mae" have also inherited the enormous frame and production capacity of their mother Diana and produced 2040 and 2280 kg in their last completed list in 305 days.
Two half-sisters of Diana (both daughters of Champ).