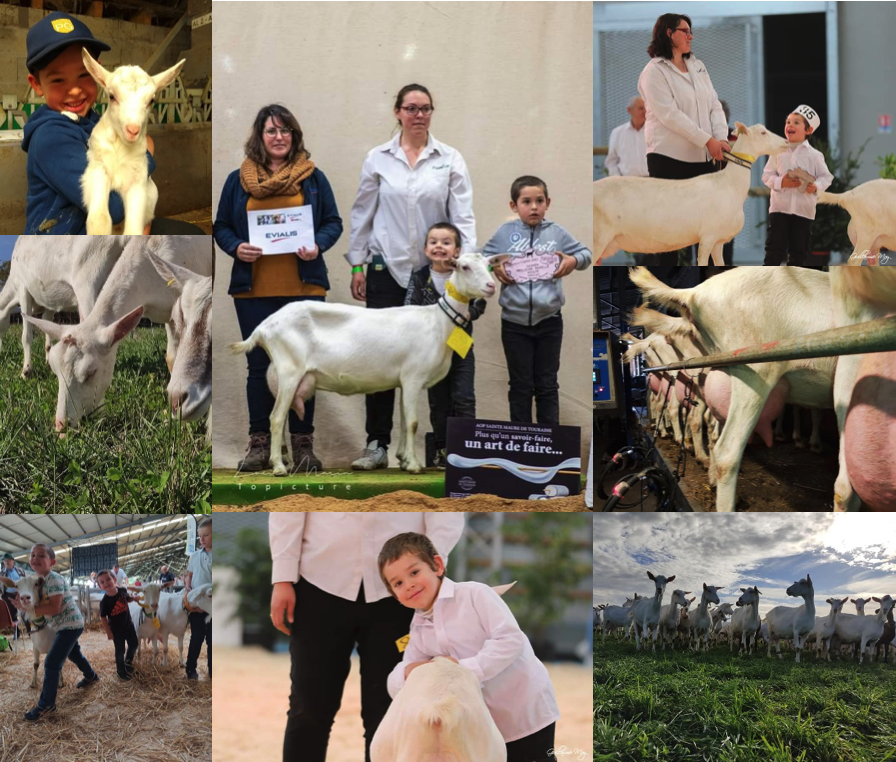 Top exterior in combination with a high milk production from mainly grass
In Vandon, France, Aimie Damonte Pierrick Chagneau has lived with her husband and two sons Lorenzo and Marius since 2016 on their farm with 500 milking goats and 60 dairy cows. Focusing on super udders and a high milk production from mainly grass, that's how you can describe their breeding goal. Participating in shows is Aime's great passion. She already has an impressive list of show successes to her name. Not only Aimie is very fanatical with the shows, but also her two sons Lorenzo and Marius seem completely gripped by the show virus. A fantastic future with great show successes is thus assured.
The ration for the milking goats mainly consists of grass that comes from own land. In the summer the goats have the opportunity to go outside to graze and in the winter they mainly feed silage. By growing the grass on their own land, the family can keep the quality in their own hands.
The ability to achieve a high milk production mainly from grass plays a major role in the breeding program of the Goat Improvement Company. Aimie's genetics are therefore an absolute asset to the genetics range of Goat Improvement Company.
In addition, because of the many walks to graze, the selection for strong legs is strict and only goats with above-average good legs are used for breeding.
The goats currently impressing in Vandon are 81394 "Olympia" (produce this year 1304kg in 250days) and 91062. Both goats achieved multiple high rankings at various shows in recent years and are a great example of Aimie's breeding goal.
Two other goats that stand out are 50234 and 91042.
50234 "lady Gaga" born in 2015 produce actually 3413kg in 650days.
91042 "pépite" born in 2019 produce actually 1503kg in 250days.
All goats that have faultless conformation, good udders, strong legs and are able to achieve a high milk production mainly from grass.
Aimie Damonte Pierrick Chagneau about her breeding strategy:
Three of Aimie's best goats