GRASSHILL SENTINEL DESIGNATOR
aAa
Homozygous
Heterozygous
Nearest 4 Dam Production Avg (305 day):
213654
Scrapie resistance 
Casein A
2061 kg, 3.9% fat , 3.5% protein
'Designator': the fantastic maternal grandson of the Canadian Champion 305 day producer "Grasshill Champ's Diana" VG-88 (3688 kg, 305 days, 12.1 kg /day. One of the highest production results in the world for an individual 305 day lactation). Diana's lifetime production to date: 18,030 kg. This is a doe excelling in body capacity and dairy strength.
Designator's Dam: 'Grasshill Buckaroo Deanna', VG-88 an extremely high component doe with 305 day production 1320 kg 5.0% fat and 3.5% protein (this amount produced in her second lactation after milking straight through from her first lactation with no dry period between). Deanna's maternal sisters 'Grasshill Sunrise Dolly' and 'Grasshill Daisy Mae' have also inherited their dam Diana's tremendous body capacity, these does achieving production results up to 2040 and 2280 kg in 305 days.
Designator's Sire: 'Grasshill Summit Sentinel' VG, a buck combining genetics from 2 of Grasshill's best foundation animals: 'Tara' VG-89 (305 day: 2430 kg 4.7% fat, 3.8% protein) and 'Nightrider' VG-88, the maternal brother to 'Nadia' EX-92, one of the world's highest lifetime production does (20,114 kg).
Designator's Paternal Grandsire: 'Grasshill Nightrider Summit' EX-96 (the highest conformation scored buck in Canada). Excelling in style and stature, this buck comes from one of the best uddered families in our herd ('Shnooks'). He is obviously also transmitting these traits to his offspring.
Sire Selection Recommendations for 'Designator': A buck with many production and conformation credentials, the traits we would most expect Designator to improve are overall Body Capacity and Dairy Strength.
He also has the potential to transmit Casein A.
"Grasshill Champ"s Diana" AV-88
Granddam of Designator and a goat with one of the highest 305 day productions in the world.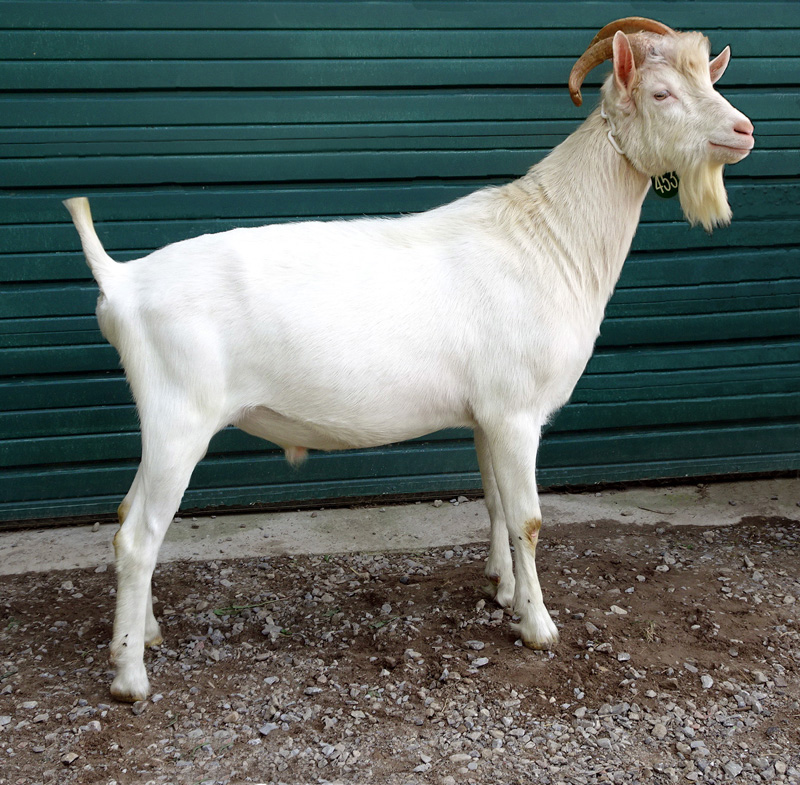 "Grasshill Summit Sentinel" VG
The father of Designator and himself has heterozygous Scrapie resistance and heterozygous Casein A.